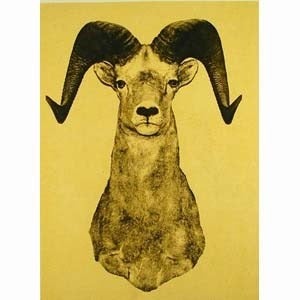 $

300.00
Animal-friendly taxidermy! This is a hand-printed transfer lithographic print made from an original photograph of a big horn sheep head. It is a limited edition of 50 that is signed by artist Jane McNally Wright, an award-winning printmaker and encaustic painter who lives and works in Rhode Island. The highest quality archival inks are used on 100% cotton fiber, acid-free, pH neutral, internally sized and buffered printmaking paper.
Each of the 50 images in the edition is hand printed so there are slight imperfections and variations from print to print, this is inherent to the printmaking process. Prints are made to order, so can take up to 4 weeks to ship though check with us because we do sometimes have them ready to go. These are shipped in a wide tube.
See this print featured in the Nov/Dec. 2011 issue of Lonny magazine!
$300.00 unframed
Paper size: 22" x 30" Image size: 17.5" x 23.5"
Sold exclusively though Empire Delicious
See our new web-site at www.empiredelicious.com!